Orania Town Facts, Laws, Currency, Location, Population, Gay Rights, President, Size
Orania a white's only town for Afrikaners located in the Northern Cape, South Africa is one of the controversial settlements. The town doesn't subscribe to South African laws, they have their own currency and no police or prison. The  Orania town authority has rejected the Rainbow Nation concept.
History
Carel Boshoff is the man behind Orania town. He is the son-in-law of former South African Prime Minister Hendrik Verwoerd.
Carel Boshoff bought the dilapidated town for around R1.5 million (US$585,000), on behalf of the Orania Bestuursdienste (OBD).
The first 13 inhabitants moved in in April 1991.
Orania Town Location
Where is Orania Town Located?
The Orania town is in the Northern Cape Province in South Africa.  Its located along the Orange river. The town is divided by the R369 and lies half way between Pretoria and Cape Town.
Population
Orania has an estimate population of 1 600 people over a density of 100/km2.
The aim of the town is to ensure the survival of Afrikaners by keeping their language and culture alive. Any person who defines themselves as an Afrikaner and identifies with Afrikaner ethnicity is welcome to live in Orania.
The town authority has rejected the Rainbow Nation concept.
The Orania town population have grown significantly over the years.
| | | | | | | | | |
| --- | --- | --- | --- | --- | --- | --- | --- | --- |
| Year | 2001 | 2011 | 2012 | 2013 | 2014 | 2016 | 2017 | 2018 |
| Population | 481 | 892 | 941 | 965 | 1,085 | 1,305 | 1,422 | 1,602 |
President Of Orania Town – Carel Boshoff
Carel Boshoff, President of the Orania movement in the Northern Cape.
In 2019 Carel Boshoff's presidency was under threat after a purchase of Mercedes-Benz for R102 000, a 45% salary increase, and a long list of accusations of mismanagement.
Carel Boshoff salary
He increased his salary, called the "president's honorarium", by 45% to R22 000 per month. Months later Carel Boshoff stepped down as the President of Orania
Size of Orania Town
Area
The town's territory originally covered 300 hectares (740 acres), and was expanded through a number of land acquisitions.
In August 1991 the 2,300 hectares (5,700 acres) farm Vluytjeskraal 272 was added to Orania
Jobs In Orania
Orania have operational businesses, from manufacturing, industrial, survives and farming, over 100 formal business operates there. All jobs in Orania are reserved for Afrikaners only. Non- Afrikaners are prohibited to work in Orania unless if they possess rare skills that locals do not have.
Orania Currency – The Ora
The town has its own currency the Ora, a medium of exchange used for local transactions in the white's only Orania Town.
Their currency is only functional within Orania and used to carry out transactions locally. The Ora have various notes denominations.
The 10 Ora note depicts Afrikaner history, the 20 Ora note Afrikaner art; the 50 Ora note Afrikaner culture; and the 100 Ora note Orania itself.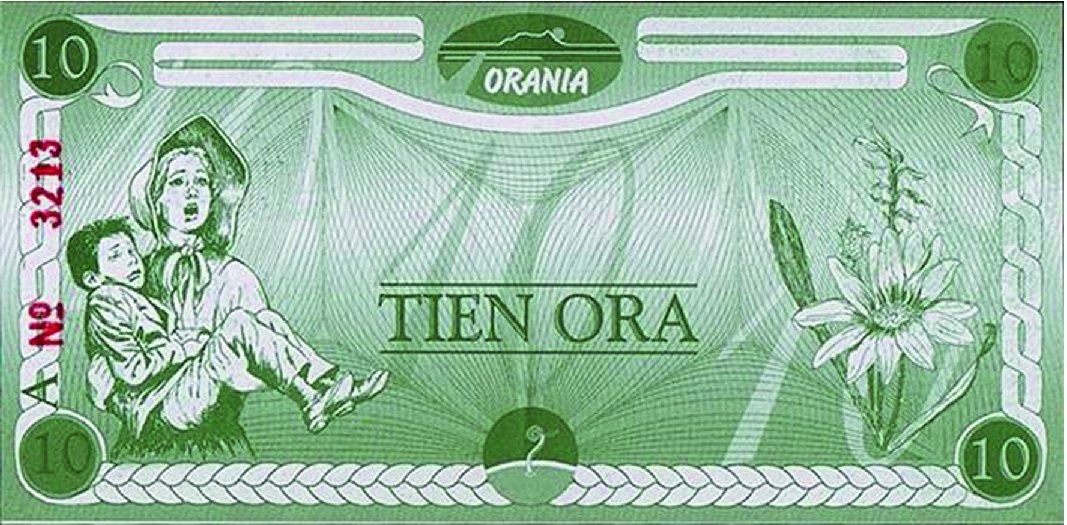 The currency is believed to be a bit stronger than the South African Rand.
Orania Town army, police, prisons and courts
The Orania town is free from criminality hence there is no police, army or prisons. It is reserved for Afrikaners and those who conform to the Afrikaners culture.
Newcomers are motivated to move to Orania by the desire to escape crime, most of the newcomers are previous victims of crime. The town is secure to the extent that they do not lock their doors.
Minor crimes such as theft and domestic issues are handled internally. The town has Traffic monitoring volunteers who carry out watch controls.
Community loots and burn down white owned farm in KZN
The Orania security (Orania Veiligheid) was established in October 2014 to handle reports of illegal activities. Suspects of illegal activities are taken to nearby HopeTown police station.
In case of conflicts, Orania residents use internal mediation and arbitration processes available by the town council.
Public Figures Who Visited Orania Town before
Over the years, Orania has been visited by many public figures, including
Former President of South Africa (late) Nelson Mandela in 1995
Watch Mandela Visit to Orania Town

Northern Cape Premier Dipuo Peters (in 2004),
Julius Malema (in 2009),
Desmond Tutu (in 2010),
President Jacob Zuma (in 2010).
Contact details
Website: https://orania.co.za/
Phone number: +27 53 207 0062
Email: inligting@orania.co.za
9 Random Facts About Orania

Orania is a white's only Afrikaners Town
It is independent from South Africa
President Of Orania is Carel Boshoff
The town has its own currency called the Ora
Orania has an estimate population of 1 600
The whites only Orania town has no police, army and prisons.
Local jobs are only reserved to locals, they hire externally for scarce skills
Orania residents are eligible to vote in the Thembelihle municipal elections, but few choose to do so.
The town doesn't recognize gay rights
Orania In Pictures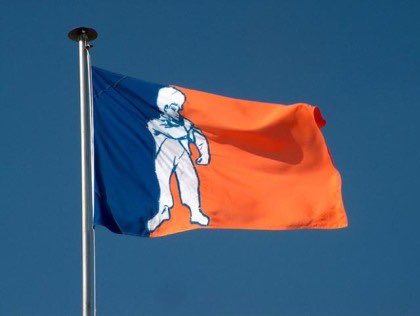 Orania Town Facts, Laws, Currency, Location, Population, Gay Rights, President, Size