Ecocash issues a statement about Mobile Money ban by government
Ecocash issues a statement about government ban of all mobile money platforms include Ecocash, One Money, Telecash and all trading on the Zimbabwe Stock Exchange.
Ecocash has dismissed the ban as a non-event.
Ecocash Statement on ban by Government
CUSTOMER NOTICE
Dear Valued Customers,
We are aware of a statement purporting to have been issued by the Secretary for Information, Publicity and Broadcasting Services that purports to ban all mobile money transactions.
However. EcoCash is regulated by the Reserve Bank of Zimbabwe and would naturally expect a directive of that nature and significance to be communicated by the Reserve Bank of Zimbabwe.
We urge all Ecocash users who exceed 10 million Zimbabweans, the majority of whom do not have bank accounts, to remain calm and to continue to do your lawful transactions as usual. Should there be any changes, we shall give you adequate notice as required by law.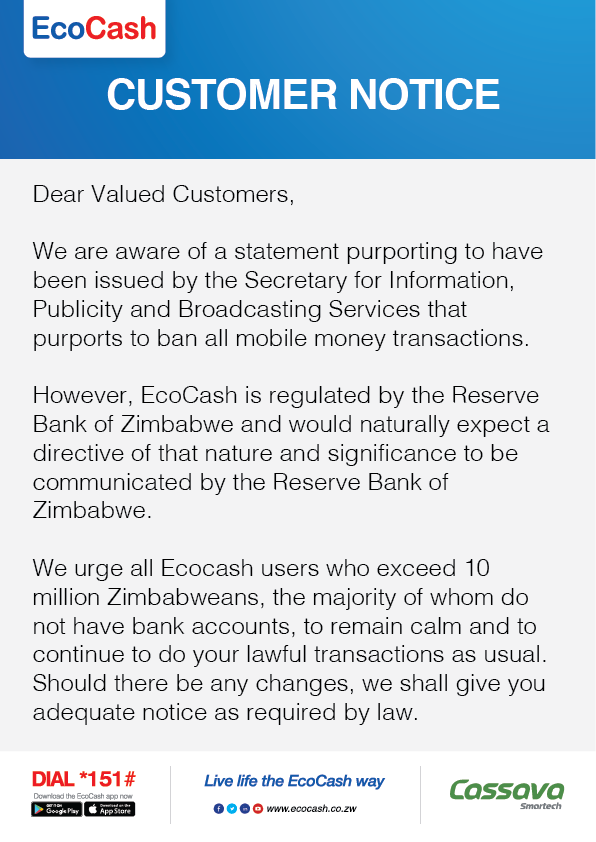 The move by the government to ban Ecocash and all other mobile money platforms left citizens wondering about what will happen to their mobile money balances.
Merchants Rejects Ecocash and One Money
Its not business as usual at Mbare Musika, where farmers and vendors have started rejecting mobile money after government ban.
Speaking to Savannanews vendors and farmers are in confusion of what will happened to their Ecocash balances and have resorted to the USD dollar pricing.
" We can't be selling our products with a banned currency, it has also become difficult to transact in bond notes as they are now difficult to handle.The farmers are rejecting Ecocash transfers and prefer higher value bond notes from $10 upwards and USD. Customers on the other hand have Ecocash payments and lower value bond notes, we have no option but to demand what will enable our business to survive," says a potato Mbare Musika vendor.